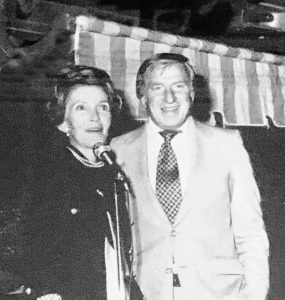 WILKES-BARRE – The country lost a former first lady Sunday while Seymour and Evelyn Holtzman lost a close friend.
The Holtzmans recalled their friendship with Nancy Reagan, who died Sunday at the age of 94.
"She was a very good friend and a wonderful lady," Seymour said from Florida. "President Reagan was always so nice to everybody and sometimes people tried to take advantage of him. Nancy was his guardian. She protected him in all ways."
The Holtzmans visited the Reagans often – in Washington, D.C., and in California at the Reagan ranch. When President Reagan returned to the White House following the 1980 assassination attempt, Seymour said he and his wife were two of just 10 people gathered in the Rose Garden to welcome him home.
"I still remember the helicopter landing," he said. "We were very glad to see him again, and we felt honored to be a part of his welcome home."
The Holtzmans have several photos of their times with the Reagans' at state dinners at the White House, on horseback and even in the Holtzman's backyard in Kingston.
"In 1979, when Mr. Reagan announced he was running for president, we held a fundraiser at our house," Evelyn said. "It was only the second fundraiser for him in Pennsylvania."
The Holtzmans have a picture of that event signed by the former first lady.
The Holtzmans also attended a controversial 1982 dinner at the White House that featured Egyptian President Hosni Mubarak.
The Holtzmans said it was the first state dinner that Nancy Reagan had.
"We were invited and we have a picture of my wife shaking hands with Nancy and Egyptian First Lady Suzanne Mubarak of Egypt. The dinner featured new White House china that was termed "extravagant". The controversy subsided when it was revealed that the cost of the dinnerware was covered by a private donation.
"That was the dinner when there was all that hub-bub about the new china for the White House dining room," Seymour said. "Later that night, Nancy Reagan called Evelyn and they talked for 20 minutes."
And then there was the time that President Reagan and Nancy invited the Holtzmans to an event at the Kennedy Center. The Reagans were unable to attend, so the Holtzmans sat in the president's box.
"There we were and everybody in the building was turning around to see who was sitting in the president's box," Seymour said. "And we got to meet Elizabeth Taylor, who was performing that night."
The Holtzmans said their son, Marc, is now working in Hong Kong. When Reagan ran for the presidency in 1979, Marc was named campaign director for Pennsylvania.
"Marc was just 19 years old," Syemour said. "He dropped out of Lehigh University to work on that campaign."
by Bill O'Boyle